Charlie Zahm: One of the strongest voices in the musical worlds of the Celts, Early America and the Civil War.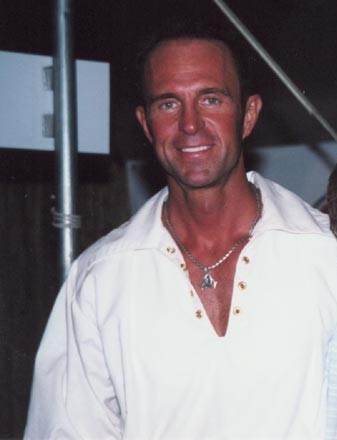 Charlie Zahm is one of the most popular soloists at Celtic music festivals, Maritime, and American Traditional music events anywhere east of the Mississippi. With a baritone voice some have described as "coming along once in a generation," Charlie has become one of the most successful performers on the Celtic festival circuit, weaving magical moments of Scottish and Irish history for the listener and viewer, with passion for the performance and a chosen repertoire pleasing to all members of the family. A master of the guitar as well, Charlie brings an authentic love and respect for the music he sings-and with dashes of humor and a light in his eyes, he will draw you into the stories of his songs!
When Charlie was old enough to sing, he began appreciating the beautiful Celtic songs and melodies he first heard in the largely Scottish province of his mother's birth, Ontario, Canada. Keenly aware of his own heritage, which includes healthy doses of Scottish and Irish blood on both sides of his family, Charlie has collected several hundred popular (as well as beautiful and obscure) selections and now performs them for thousands of fans up and down the Eastern Seaboard and across America. Today, as one of the most sought-after Celtic singers on the East Coast (he is one of the few singers in the world to be invited to sing live twice with Scotland's "Black Watch"), Charlie performs regularly everywhere from concerts and festivals to television shows and Celtic-themed Caribbean cruises, where his 6'4" frame and powerful baritone make him one of the most memorable performers around.
Charlie has released two DVD projects: "Out of the Mist" was released in 2002 and was entirely filmed in Scotland; "Charlie Zahm: An Evening of Classic Melodies" is a live concert DVD with Charlie and his band that was produced in 2007 in cooperation with Franklin Springs Family Media of Nashville. These projects again demonstrate that Charlie's vocal ability is rarely matched inside or outside Celtic music, and his mastery of the guitar is the perfect complement to his vocal performance. Both of these DVD projects are also available on CD. Charlie also appeared as a singing soldier in the film "Gettysburg—Three Days of Destiny."
Clips of all of Charlie's recorded songs can be heard on his "Albums" page.
Charlie also performs period North American music from the 18th and 19th centuries, including music of the War Between the States, and is often asked to appear at Civil War re-enactments and concerts, as well as Colonial and Early American-themed events. Living in Philadelphia, the birthplace of the United States, helps keep him very busy in this regard! (at the top of this page click on "Early America" or "Civil War" to read about his music endeavors in those historical areas.) And if that didn't keep him busy enough, he is in demand for his own approach to American Cowboy Ballads and Country music, which shows his respect for the great musical abundance of the American West and the story songs of Country radio. His newest all-original CD, "Nothin' Like the South," is a reflection of that passion.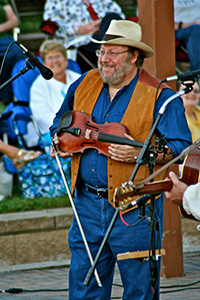 With Tad Marks
Charlie is often joined by fantastic Baltimore fiddler Tad Marks, who has toured extensively across the U.S. and Europe with top-name groups and is considered one of the finest fiddlers on the East Coast. His down-home charm and easy-going style have made him friends across the country,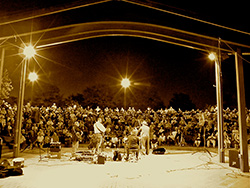 and his fine fiddling on stage with Charlie ranges from hard-driving jigs and reels to the most expressive accompaniment for vocals you will ever hear. His solo CD releases have received great praise from traditional Celtic and bluegrass fiddle-music lovers alike! Tad's music has also been featured on many of Charlie's albums and dozens of additional CDs by other artists, TV commercials, and on various other projects.
"I will share the fate o' my Prince, and so shall every man over whom God and Nature has given me power!"

So proclaimed the gallant Lochiel as he brought his 900 Cameron Highlanders into the service of Bonnie Prince Charlie at Glenfinnan at the head of Loch Shiel in August 1745. Forming the nucleus of Charlie's army, the Camerons (whose battle cry was "Sons of hounds, come hither and eat flesh!") were followed closely that morning by the Keppoch MacDonalds . . . and the Rising of '45 was on!

Sit back and enjoy the Jacobite experience, which actually begins with the abdication of James II and the invasion of the Dutch Prince William of Orange in 1688, and hear the spirited songs which help to illustrate the period of the exiled Stuarts and the many attempts by the loyal Highlanders to help them regain their throne. After "the Forty-Five", life in the Highlands changed, and changed utterly— the landscape created by the government destruction on all things Highland is still visible to this very day. It is a story that has to be told, and Charlie Zahm will tell it like no other.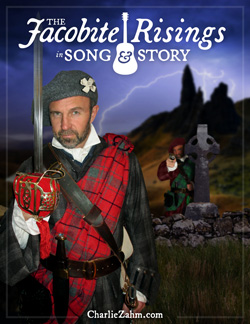 What is it that has influenced Charlie's songwriting?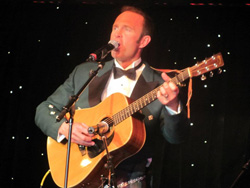 Charlie has always been taken by the senses of time, place and social consciousness preserved in traditional music, and through years of dedication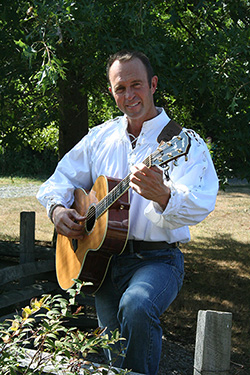 and a wide variety of studies and travels he has earned a reputation of truly being committed to his craft. And his love for this art is especially evident in the powerful compositions of this seasoned songwriter.
One of Charlie's favorite places in all the world that influences his original maritime music is Nova Scotia. The most beautiful of all the Canadian Maritime Provinces, and the one in which Charlie has familial roots, Nova Scotia has lent imagery and romantic drama to many of Charlie's compositions. Her beautiful sunsets, sentinel lighthouse and working fishing boats so easily provide stories and romantic locations to his songs.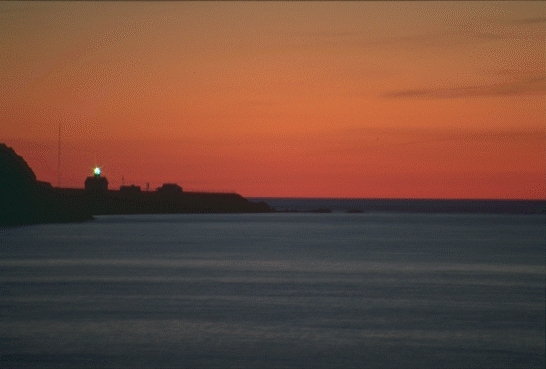 Many folks who hear his songs take them to be traditional tunes of the area, nearly indistinguishable from music that may have been worked over by generations of traditional singers. For Charlie, there is no higher compliment.
In his first three CDs of original music, "A Summer's Morning Rare," "Under the Great Northern Stars," and "Recent Journeys," Charlie explores his maritime roots through traditionally styled original songs and stories. Those who have followed his career through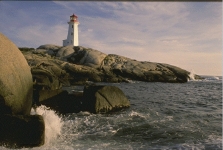 New England and mid-Atlantic coffeehouses and Maritime and Celtic festivals have enjoyed the mix of traditional and new material he brings to the stage, and these albums demonstrate that not only is this respected performer a fine singer and multi-instrumentalist (guitar, 5-string banjo, mandolin, flute, whistle and others), but a writer of rare caliber as well, and a few of his songs have been covered by other artists. As most of Charlie's family is Canadian and much of his musical influence comes by way of that country, his songs have a fresh approach, a new cadence and atmosphere, that defines his contribution to the folk scene, and helps spread his growing popularity as a fine addition to any festival or concert event.
For a look at Charlie's Country/Western
side (which is a musical cousin of Celtic music),
see "Charlie Zahm Country."

Home | About | Music Shop | Order | Press | Schedule
Copyright © 2019 Charlie Zahm. All rights reserved. Email Charlie Zahm.

Website Design and Maintenance by Ernie Black/Standing Stone Designs