Charlie Zahm: An Evening of Classic Melodies (2007)
Available on both DVD & CD!
I am so excited to have worked with Franklin Springs Family Media of Nashville to produce this live concert performance with my band (Tad Marks - fiddle/Steve Hobson - lead guitar/Joe Spinelli - upright bass/Cheryl Prashker - percussion). I could not be happier with the end result: Franklin Springs put together a beautifully crafted visual production, capturing the music perfectly. Even though the entire production was threatened by a terrible snow and ice storm that very day (February 13, 2007) a hardy audience made it through the elements to join my band, the Franklin Springs crew, and the wonderful folks from the Milburn Stone Theater in North East, Maryland, to put a show together I will be so proud of for a long, long time.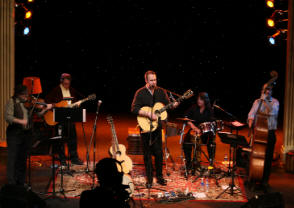 I hope you enjoy it too!

Here is the list of songs included:

Westering Home/Maid of Fyvie
Poor Wayfaring Stranger
All Through the Night
Follow Me up to Carlow
Loch Lomond
Summer Rains
Out on the Mira
Mairi"™s Wedding/Mason"™s Apron
Farewell to Nova Scotia
Geordie
Planxty Fanny Power/O"™Carolon"™s Concerto
Be Thou My Vision
Minstrel Boy
Sweet Virginia
General Taylor
Lighthouse on the Shore
Scotland the Brave

WMV Video clip requires Microsoft Media Player 9 or greater. Download Media Player 9 by clicking Here. Please report any problems viewing these videos to my webmaster at John@DelcoNET.com